Updated September 1, 2022
Payment is required at the time of service. All major credit cards, CareCredit, check and cash are accepted. Clients with an outstanding bill will be required to pay in full prior to being seen for service, including emergency care. All balances over 30 days past due will be assessed a finance charge of 1.66% per month. All returned checks are assessed a $25 fee.
Payment Plans
If you need financing for care, we work with ScratchPay and with CareCredit.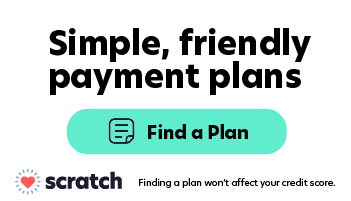 CareCredit for Veterinary Health
There is no cost to apply for a CareCredit card and there is no annual fee. Bills paid in full within 6 months of transaction are interest free. Transactions not paid within 6 months are subjected to interest as detailed in your cardholder agreement. CareCredit cards are accepted a variety of health providers.
Whether it's a routine checkup or emergency surgery, you shouldn't have to worry about how to get the best medical care for the pet you love. That's why we're pleased to offer CareCredit®, North America's leading client payment program. CareCredit® lets you say "yes" to the best treatment for your pet immediately, and pay for it over time with monthly payments that fit easily into your budget.
The credit card for health services.
CareCredit® is the credit card exclusively for healthcare services. CareCredit® offers convenient monthly payment terms, zero hidden fees, and minimum monthly payments. You can use your CareCredit® card over and over for all your pet's follow-up care as well as annual exams and vaccines.
For Veterinary procedures, CareCredit offers:
Enjoy low monthly payments
Start your pet's treatment immediately
Watch a quick video to learn about CareCredit® Payment Plans. View Now
Learn more by visiting CareCredit.com or contacting our office. Ready to apply? Apply online for your CareCredit card today.